In the Etherium on block 11 234 873 there was a temporary branching of the blockchain
There was a temporary unplanned hardfork on block 11 234 873. The Infura platform reported a failure, and Binance temporarily suspended the output of ETH and ERC-20 tokens;
The original cause of the failure was thought to be an internal problem on the Infura platform, which provides many companies with virtual hosts and is used by some exchanges and service providers to interface with the ETH network. However, independent host operators also reported problems;
During the incident, the Binance crypt exchange suspended the output of ETH and ERC-20 tokens, and CEO Changpeng Zhao wrote on Twitter:

"A branching of the chain of Etherium on block 11 234 873 may have happened. Etherscan and Blockchair show two different chains and data after this block. We are solving the problem now, but the asset output is temporarily suspended. Money is safe."
Биржа возобновила
assets withdrawal at 13:20 Moscow time. The team of Blockchair, a popular blockchair browser, reported
about the discrepancy between the blocks in its browser and the data published by Etherscan. After block 11 234 873, extracted at 10:08 Moscow time, two different branches of the blockchain were displayed in two browsers;
The screenshot published by the Blockchair team shows at least 14 blocks extracted in a smaller chain. This indicates that some maintainers have also suffered from this problem;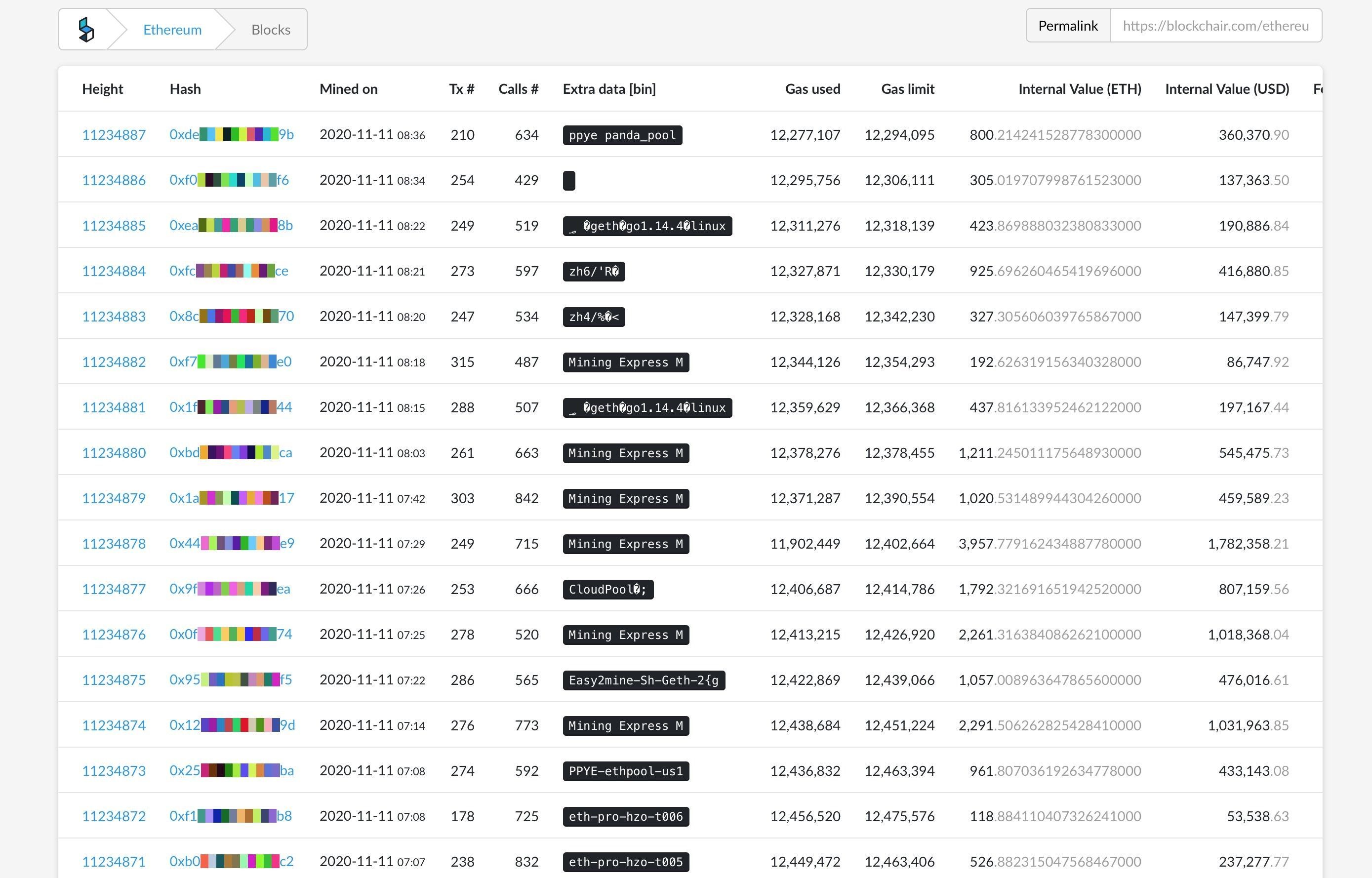 While the developers were trying to set priorities for fixing the problem, Geth's head of large Ethereum nodes Peter Szilagyi noted that the first thing to do is to upgrade to the latest version of Geth.
Shortly afterwards, the Blockchair team reported that the Geth update had fixed the problem and wrote: "there seems to be a compatibility problem that appeared in one of the latest updates of Geth by the developers of Etherium";
Szilagyi said that Infura "uses an "ancient" version of Geth" and therefore may have encountered a similar synchronization problem. Blockchair development manager Nikita Zharonkov said:
"Looks like there's been a little hardfork that nobody noticed."
According to him, the developers "broke something in the latest releases" and this led to the problem of consensus and unplanned hardfork. Szilagyi formulated the problem in a different way, saying that the new release "corrected the consensus error";
The incident provoked significant, albeit temporary, problems for many members of the Etherium network. The Infura platform has not yet regained full functionality.
Recall that the developers of Etherium are preparing to deploy a new version of the network, which is scheduled for December 1. According to Etherscan, as of November 8, locked 45,893 ETH. Now this number has already exceeded 54,113 ETH.